DELAWARE BUSINESS TIMES
Drone training program preps veterans for new careers
Guest Writer July 5, 2022
SHARE
WILMINGTON — Paul Dietrich developed an interest in drone technology while serving as a squad leader for the U.S. Army, but he didn't have the opportunity to participate in a training program at the time.
"I was too highly ranked to be trained to use drones, but I was interested in learning about them," Dietrich told Delaware Business Times.
Angel Lotti, left, slowly lands a drone, while Drone Workforce Solutions instructor Christopher DeMuro watches his progress. Lotti is one of several students in training to navigate airspace with drones for a new career path. | DBT PHOTO BY KATIE TABELING
Dietrich began searching for his next calling after retiring from service. At first he worked with dogs, but an injury later prevented him from continuing. After
a week of online research, Dietrich came across Drone Workforce Solutions (DWS) in Wilmington. It's the only drone school in the nation that is accredited by the U.S. Department of Veteran Affairs.
Due to that unique distinction, DWS draws veterans from across the nation. Participants in the school's Veteran Education and Training program have traveled to Wilmington from as far as Texas, California, and Hawaii to engage with its unique curriculum.
Dietrich's drone flying skills will be used in his hometown of McLoud, Okla. There, local emergency services plan to implement drone technology as a means of improving search and rescue capabilities, Dietrich said.
Drone technology will also be particularly useful to the local fire department. "By using the drones to put together a mosaic map of the landscape, we'll be able to better fight wildfires," Dietrich said.
DWS was founded in 2016 by attorney and CEO Theo Nix Jr. on a foundation of in-person, hands-on instruction and community building.
"I want to introduce great technology to America, create a global technology hub in Delaware, and develop employment opportunities across the nation through strategic partnerships," Nix said.
DWS — which includes 50 hours of classroom instruction, 16 hours of flight time, and 8 hours of data editing. DWS also provides a day of instruction centered around 13 ways to finance a business.
DWS focuses on preparing program participants to pass the Federal Aviation Administration's Part 107 exam, which allows them to obtain their commercial drone license.
Elements of mapping, flight techniques, videography, and photography are all integral to DWS' course, according to program instructor Kenny Tribbett.
Tribbett — who initially began working with drones as a hobby — also noted the importance of teaching program participants to navigate an airspace, observe temporary flight restrictions, and secure flight authorizations.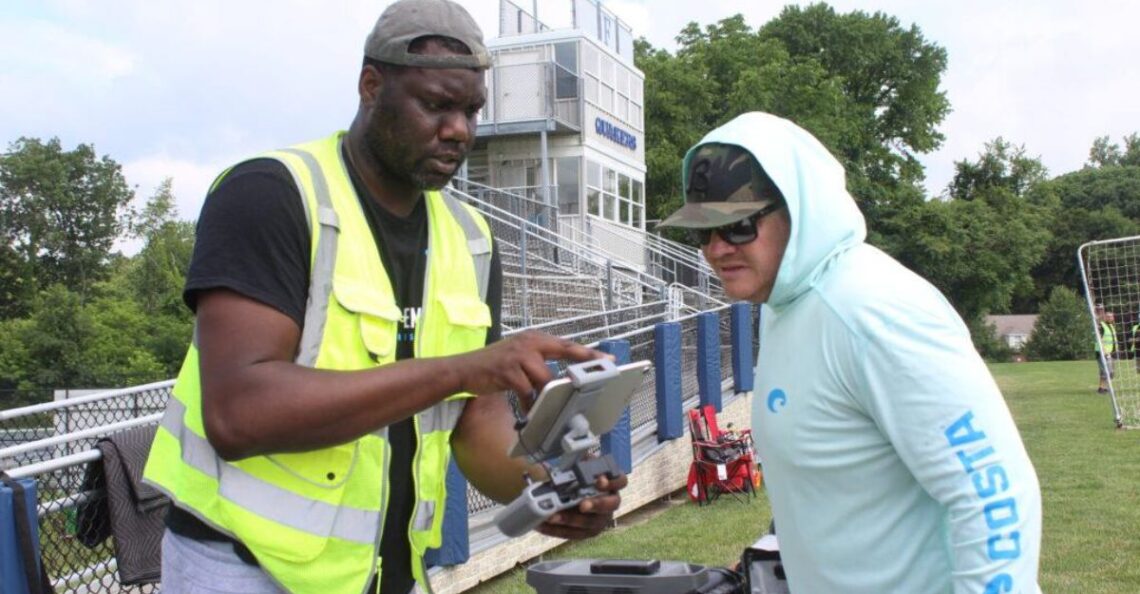 Paul Dietrich, right, asks an instructor to review some photos taken from his drone as part of the day's assignment. Dietrich, who came from Oklahoma to study in the Drone Workforce Solutions program, plans on using his new skills to aid search and rescue efforts with his local fire department. | DBT PHOTO BY KATIE TABELING
DWS introduces all of these skills, and more to veterans with the intention of encouraging practical application. Training in drone usage is extremely conducive to workforce preparedness, according to Nix.
"Drones are used in real estate, construction, inspectional services, utility and cell tower inspections, parks, and agriculture," Nix said. "Doing utility inspections, you can make up to $12,000 a month."
Nix is proud to provide veterans with marketable skills that are highly coveted in the professional world.
"I was shocked when I found out that no other VA-accredited drone program exists in America," Nix said. "The world would be in a worse place without our veterans."